LES REVERDIES DE MONTRÉAL
Les Reverdies de Montréal is a non-profit organisation that seeks to promote medieval music in and around Montreal, and to create a meeting place for musicians and music-lovers of all stripes. It is composed of members of several of Québec's medieval music ensembles: La Strada, Eya, Ensemble Scholastica, Deus Ex Machina, and ensemble Estavel.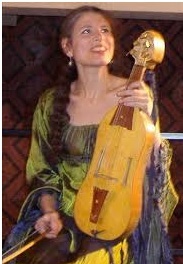 REBECCA BAIN

Born in Montreal, Rebeca Bain completed a Master's degree in medieval music at the famous Schola Cantorum Basiliensis in Switzerland. In Europe, she performed with many of the most renowned medieval music ensembles, including Sequentia, Ensemble Gilles Binchois and Sarband. Rebecca co-founded and co-directed ensembles such as Belladona and Zorgina, participated in a number of recordings and presented many medieval music workshops. Since her return to Canada, Rebecca has participated in various projects with Canadian early music ensembles, including the Toronto Consort and Constantinople as well as projects by modern composers (Benoît Charest, Patrick Watson and Karen Young). She taught at Marianopolis College, and in 2012 became director of Ensemble Scholastica, a women's vocal ensemble for medieval music. Under the ATMA lable, the ensemble will release its first CD in early 2017.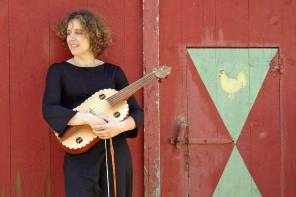 FEMKE BERGMA

Originally from the Netherlands, Femke Bergsma moved to Montreal after completing her studies in recorder at the Conservatory of Utrecht. She has worked as assistant to recorder-maker Jean-Luc Boudreau and continues to perform with various ensembles for baroque music, notably Les Boréades de Montréal. Her interest in medieval music led her to take up the medieval fiddle and study performance practice with members of the Boston Camerata. Femke has also performed with various medieval ensembles such as Stadaconé and Memoria in Quebec, as well as la Compagnie Machaut, Scholastica, Alkémia and Estavel in Montreal. Together with Liette Remon, she forms the duo Eya. A regular teacher at Cammac music camp, she can be heard on several cd's and radio programs.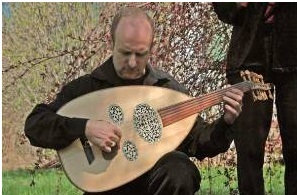 BRUNO COGNYL-FOURNIER

Bruno Cognyl-Fournier holds a Bachelor's degree in music from Queen's University in Ontario, where he studied lute with Aaron Skitri. Between 1981 and 1985, he studied lute with Pascale Boquet in France, while at the same time being employed as a chorister in the Lyrical Theatre of Tours. Bruno has performed in many early music festivals and other concerts, and has been teaching lute for a number of years. Between 1986 and 1996, he was a member of the Montreal vocal ensemble Sine Nomine. In 1999 he co-founded the medieval ensemble Estavel, and in 2011 joined Les Amis de la Musique Andalouse de Montréal in order to learn more about traditional Arabic music.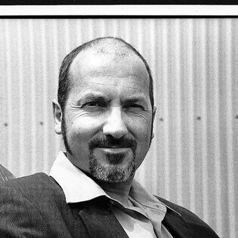 PIERRE LANGEVIN

Multi-instrumentaist, composer and producer Pierre Langevin completed his musical training in clarinet and chamber music at the Conservatoire de musique de Québec in 1978, and went on to further his studies in Cleveland and New York. He also trained in dance, as well as the mime and clown arts with the theatrical company Omnibus. He has performed as actor-musician in many Théâtre du Trident productions, and served as musical director for their production of "Le Bourgeois Gentilhomme" in 2014. A founding member of the ensemble Anonymus in 1978, Pierre studied medieval music through workshops with Ensemble Sequentia in Cologne, and world music in a variety of European contexts. He is also active in contemporary and improvisatory music, and collaborates occasionally on musical projects for dance and film. In 1986 he founded and currently directs the ensemble STRADA (now called Strada Productions), dedicated to the performance and interpretation of medieval and traditional music of Europe. Pierre is a founding members of Les Reverdies de Montréal.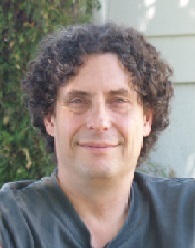 ALAIN VADEBONCOEUR

Alain Vadeboncoeur studied music with Les Petits Chanteurs de Trois-Rivieres, as well as composition and music history at McGill University. He developed an expertise in choral direction with Les Petits Chanteurs, becoming their adjunct director, then in Quebec and Montreal as director of at least 20 different choral ensembles. Particularly interested in sacred chant as well as early music, Alain has participated as singer and artistic director on various projects in connection with this repertoire, notably with the Schola St-Grégoire, the female vocal ensemble Virga, and the trio Deus ex Machina. His collaboration with the Festival du Monde Arabe, was as musical director for "God in 3D", a production uniting on a single stage, performances of Jewish, Muslim and Christian music. Alain is a founding member of Les Reverdies de Montréal.